"The precepts of the law are these: to live honestly, to injure no one, and to give everyone else his due."
                                                                                                                                    Cicero

Athreon's experienced and competent legal transcriptionists are well-versed in the terminology that is unique to the legal profession. We're also committed to preparing your legal documents promptly and with unsurpassed attention to detail. Our combination of cutting-edge technology and commitment to providing world-class service has made Athreon the top legal transcription service for attorneys, paralegals, and other legal professionals across the United States and Canada.
Mobile Dictation Apps for Legal Professionals
In addition to providing high-quality legal transcription services, Athreon offers mobile apps for iPhone, iPad and Android smartphone users that can streamline and simplify the legal dictation process. Our mobile apps offer the benefits of easy, hassle-free use—just dictate the information into your mobile device and then download your transcripts. Most of all, our dictation apps compliment the high-level of accuracy that is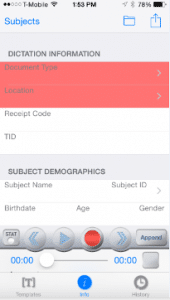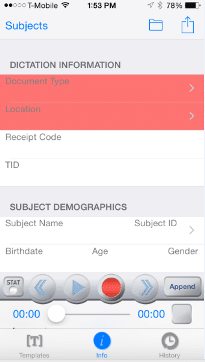 essential for depositions, client consultations, interrogations, court hearings and memorandums. Stringent security features are also included to ensure client privacy and confidentiality.
Key mobile app features include:
Online job monitoring/editing
Voice recognition compatibility
File transfers via Wi-Fi or Data networks
Three audio quality recording options
Dictation in online or off-line mode
Our mobile app for legal dictation does not require the installation of any third-party hardware or software. The app will run on iPhone OS v. 5.1 or newer, and Android phones with touch screen capabilities on OS 1.6 or higher and a Secure Digital (SD) card. With the Athreon mobile app, you no longer have to worry about being chained to a phone or not having access to a telephone line: highly accurate and secure dictation can take place in the office, at home or on the go.
Legal Transcription Areas of Focus
Administrative Hearings
Arbitration Hearings
Conferences
Correspondence
Court Hearings
Depositions
Interrogations
Meeting Minutes
Memorandums
Public Hearings
Wiretaps
Our Commitment to Quality Sets Athreon's Legal Transcription Service Apart
When you are looking for legal transcription services, superior quality is an area where you should not compromise. At Athreon, we've provided quality transcription services since 1988. Over the years, we've developed highly refined processes for getting projects done accurately and quickly. Our legal typing service includes a multi-tier quality review process to ensure precision. Unlike other legal transcription companies, all our work is produced by native English-speaking transcriptionists. Likewise, all our transcriptionists have passed a criminal background check.
We Simplify the Legal Transcription Service Process
Another reason why Athreon is the legal transcription company attorneys and other legal professionals prefer is because we make the process easy. All Athreon clients enjoy 24/7 online account access so you can check the status of your project anytime. You can also revise your documents, escalate a job priority and even electronically approve your files for printing all from your mobile device.
We offer many options to distribute your completed files. Available delivery options include secure email, FTP and remote printing. Our services are available whenever you need them, and we require no long-term contract.
Legal Transcription Featuring World-Class Support
We understand if you have a question or concern about your documents, you need answers quickly. When you contact our customer support centers, located in Chicago and Indianapolis, you will receive a level of unsurpassed personal support. Our goal is to resolve every issue as expeditiously as possible and to your total satisfaction. Contact us to learn more about how Athreon can ease your administrative workload with our legal transcription service.