Business Transcription Services
"The only way to do great work is to love what you do."
Steve Jobs

Athreon is a business transcription company serving organizations of all sizes. We combine state-of-the-art technology with a genuine commitment to serving the needs of our clients, regardless of the size or complexity of the task at hand. Our transcriptionists prepare every document with the goal of complete client satisfaction. Whether you're an executive, supervisor or administrative assistant, you count on our business transcription company to help you work with greater speed and efficiency.
Mobile Dictation Apps for Business Professionals
Our range of speech to text options for businesses now include mobile dictation apps for Apple and Android mobile device users. Our mobile apps are the ideal dictation solution for business professionals who spend a lot of time away from the office or do not always have access to a landline. Simply dictate into your mobile device and get your transcripts. You'll enjoy the advantage of high-quality dictation wherever your business travels take you, whether you're in a car, airplane or hotel room.
Athreon mobile dictation apps for businesses also provide an excellent return on investment; they generate more value at a lower cost than many conventional dictation options. What's more, you won't have to bear the cost of additional hardware or software. The app is also easy to set up, as no configuration is required. Key mobile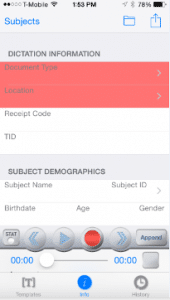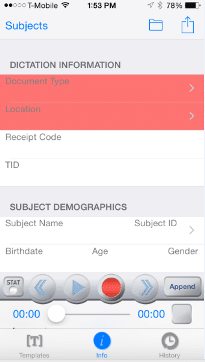 dictation app features include:
Automated audio file transfers
File transfers via Data or Wi-Fi networks
Modifiable font size for easy readability
Three audio quality recording options
Secure E-Signature
Online job monitoring and editing
The Athreon mobile app for business will run on iPhone OS v. 5.1 or newer, and Android phones with touch screen capabilities on OS 1.6 or higher and a Secure Digital (SD) card.
Common Business Transcription Job Types
Board Meetings
Brainstorming Sessions
Conference Calls
Correspondence
Earnings Calls
Financial Analyses
Focus Groups
Interviews
Market Research
Meeting Minutes
Press Releases
Seminars
Speeches
Telephone Calls
Training Sessions
Webinars
Flexible Options for Business Dictation
One reason why Athreon is the best choice for business dictation in the United States and Canada is the numerous dictation options we offer. Whether you prefer to dictate by telephone, smartphone, PC or digital recorder, you'll receive the same high level of quality and fast turnaround. Our business transcription company is there when you need us.
Quality-Focused Business Dictation Services
Speaking of quality, you won't find many business dictation services that can match our attention to detail. The six areas of quality focus for every document we transcribe include:
Spelling
Grammar
Format
Content
Demographics
Full audio review
Because our transcriptionists are native English speakers based in North America with an average of 15 years of speech to text experience, we're the best transcription company that will meet and exceed your highest quality expectations.
We Stand Apart from All Business Transcription Companies When it Comes to Service
Wherever your business is located, we understand the importance of delivering excellent service. As an Athreon client, you will benefit from personalized service from our customer support center in Indianapolis, IN. We take the time to get to know every one of our clients on a one-to-one basis to gain a complete understanding of their business objectives. We're not concerned with being the biggest business transcription company — just the one that provides the best service and quality in the industry.
A Business Transcription Company that Makes It Easy
Whether you are new to using business transcription agencies or have been a frequent user in the past, Athreon is committed to making the process simple. Unlike some other business dictation companies, we don't require a term contract. Our transparent billing options give you the choice of per-minute or per-character invoicing. Our online account management is available around the clock and gives you total control over the document creation process. What's more, our multiple delivery options ensure you'll receive the transcribed document via the method that is most convenient for you.