Psychology Audio Transcription Services
"When we are open to new possibilities, we find them. Be open and skeptical of everything."
–Todd Kashdan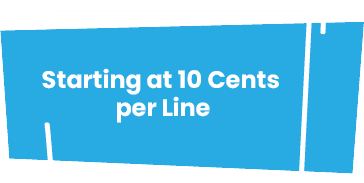 Psychology Transcription Service Made Easy
Are you a mental health professional needing a prompt and reliable psychology audio-to-text transcription service? Outsourcing your psychology transcription to Athreon's speech-to-text service can provide a cost-effective documentation solution for your practice. Athreon has more than 30 years of experience helping psychologists save time and work more efficiently.
Athreon's mental health transcription solutions give you access to several productivity tools so you can spend less time documenting your therapy sessions. These include audio-to-text transcription services, EMR transcription, and audio-to-text transcription software. We specialize in creating psychology transcription workflows that lessen caregiver burnout and optimize productivity. Whether you create clinical psychology reports, child psychology reports, expert psychology reports, or occupational psychology reports, our customized templates and canned text inserts help you spend less time dictating.
We're a Quality-Focused Psychology Transcription Company
Athreon's unmatched quality begins with our experienced, well-trained psychology transcriptionists and editors who thoroughly understand mental healthcare terminology. Our healthcare documentation specialists diligently produce accurate documents that surpass your expectations. We provide a multi-tier quality assurance system to enhance quality further. Our areas of experience encompass:
Clinical Psychology
Cognitive Psychology
Developmental Psychology
Evolutionary Psychology
Forensic Psychology
Health Psychology
Neuropsychology
Occupational Psychology
Social Psychology
Multiple Psychology Dictation Options Available
We offer an array of user-friendly psychology dictation options, making it easy to find one you like. Available dictation methods include phone dictation, smartphone, digital recorder, and using your PC microphone. Our innovative mobile apps for iOS and Android are available at no cost and fully integrate with your EHR as well as our online document management portal.
We Offer HIPAA Compliant Psychology Transcription Services
Maintaining HIPAA and HITECH compliance is a paramount concern for mental health professionals. Athreon's psychology EMR transcription services adhere to the federal requirements for privacy and security. For instance, our secure systems feature advanced encryption protocols and multifactor authentication. We also follow best practices for cyber security to assure our audio-to-text transcription clients that their patient data is well-protected.
A Psychology Transcription Service that Works with Your EHR
Do you use an EHR in your practice? Perhaps CentralReach, CounSol.com, KASA, SimplePractice, or TherapyNotes? Maybe you use something different? No matter which EMR you use, Athreon can support it because we are EHR agnostic. Our EMR transcription service and audio-to-text transcription software can integrate with any EHR – no interface required. Why spend endless hours pointing, clicking, and typing when you can harness the power of your voice?
Outsourcing Psychology Transcription Can Save You Money
Another significant benefit of outsourcing to our psychology transcription company is that it can be more affordable than hiring an employee or handling it yourself. For instance, the costs surrounding employment taxes, vacation leave, and benefits can be reduced or eliminated by outsourcing to Athreon. Moreover, because you can speak far faster than you can type, the less time you spend creating patient records, you'll have more time to help care for more patients.
Contact Us to Learn More About Our Mental Health Transcription Solutions
Are you ready to experience the best audio-to-text transcription solutions and the best audio-to-text transcription software? If so, contact Athreon's psychology transcription service to request a free trial for your practice. We'll be delighted to provide you with additional information and a no-obligation quote.