Law Enforcement Transcription and Translation Services
"At his best, man is the noblest of all animals;
separated from law and justice, he is the worst."
  Aristotle

Law Enforcement Transcription Overview
Law enforcement plays a critical role in our communities. Police officers not only strive to keep the public out of harm's way, but they bear incredible risk doing so. Being a police officer is dangerous, and it comes with inherent challenges. While some of the challenges are obvious, others are less so. Take, for example, documentation. When there is an incident while an officer is on patrol, they must accurately document their findings in an incident report. Documenting these incidents can be time-consuming and tedious, and they can also distract officers from their essential purpose of protecting and serving the community.
Documentation Challenges in Police Transcription
Police officers have two choices when it comes to documenting incidents. They can do this while on patrol or back at their desk. Regardless of where they create incident reports, a single report can take many officers anywhere from 1-2 hours to complete. Manually typing reports is not only time consuming, but it distracts officers from serving their communities. This approach limits an officer's time, it's not a good use of an agency's resources, and it can lead to unnecessary overtime costs. Additionally, because some officers can spend up to half their day typing reports, manual transcription can lead to decreased morale and burnout. There are better options, which is where Athreon's speech-to-text AI transcription solutions can help.
Speech to Text Solutions for Law Enforcement Transcription
Increasing numbers of agencies are realizing that they can improve efficiencies, lower costs, improve public safety, and boost morale by giving their officers smarter documentation tools and options. Speech-to-text technology and services from Athreon are chief among these solutions. Because officers can speak much more quickly than they can type or write, many are now creating documents with their voice. When an officer dictates, reports get processed faster and with greater accuracy. Departments that deploy Athreon's speech-to-text solutions use fewer resources and report a significant reduction in overtime costs.
Mobile App Speech to Text Technology for Police Transcription
Athreon's mobile apps improve police officer productivity and safety. Our CJIS-compatible mobile dictation apps help officers document safely without losing sight of what's happening around them while on patrol. Officers stay aware of their surroundings because their computer doesn't distract them. Instead, officers can safely dictate using their voice.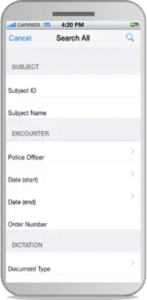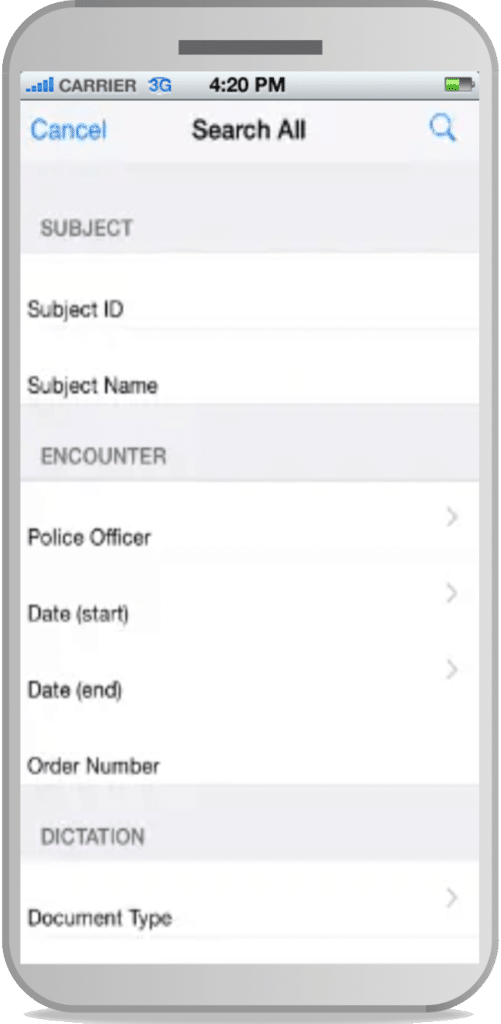 Plus, by leveraging Athreon's speech-to-text technology, officers can capture a level of detail that is often forfeited when they perform time-consuming data entry tasks. So, when they speak their findings, they document more rapidly, more efficiently, and with increased specificity. Athreon gives agencies the speech-to-text productivity tools they need, so they don't get bogged down with paperwork. Athreon empowers officers to spend more time on patrol protecting the communities they serve.
The Benefits of Athreon's Speech to Text Solutions for Law Enforcement Transcription
A variety of law enforcement agencies, criminal justice agencies, government agencies, and private investigators turn to Athreon to help them accomplish more, in less time, and with fewer resources. Athreon offers the best AI transcription service, workflow management systems, and secure solutions because we:
Improve officer safety
Improve public safety
Provide CJIS compatible solutions
Support chain of custody requirements
Integrate with RMS and CAD systems
Provide mobile audio capture options
Deliver collaborative document management tools
Leverage AI transcription technology
Provide on-demand reporting
Eliminate report backlogs
Improve transcript consistency and quality
Reduce/eliminate overtime costs
Create reports three times faster than manual typing
Capture more extensive incident details
Reduce officer desk time
Boost officer morale
Increase officer presence in the community
Law Enforcement Transcription Solutions for Single- and Multi-Speaker Audio Files
Athreon provides speech-to-text conversion for both single- and multi-speaker audio files. Whether you need help with patrol reports, letters, suspect interrogations, victim interviews, witness statements, 911 calls, or anything else, we have you covered. We create documents specific to your formatting requirements. We can provide time stamps when there is a change in speaker, and we use diarization to delineate who is speaking and when. We offer both clean-read and verbatim transcript options.
Law Enforcement Translation Solutions for Spanish and Other Foreign Languages
Athreon can provide both transcription and translation for law enforcement agencies. We not only offer translation from Spanish to English, but we support dozens of other languages. Our transcripts clearly show translations between words in a side-by-side columnar format.
Law Enforcement Transcriptionists and Quality Assurance Editors
Athreon's law enforcement transcriptionists are carefully screened pre- and post-hire. Our transcriptionists are not only experts at accurately transcribing patrol reports, interrogations, and more, but we make sure they have no criminal history. Our transcriptionists undergo FBI background checks, submit fingerprints, and participate in privacy and cybersecurity training so that we do everything in our power to protect criminal justice information. Likewise, transcription labor can be restricted geographically to support further security requirements. And of course, our rigorous quality assurance review process ensures agencies receive consistently high-quality law enforcement transcripts.
Speech to Text Workflow Management for Law Enforcement Agencies
In addition to providing transcription service for law enforcement, criminal justice, and government agencies, Athreon takes the speech-to-text process a step further with collaborative workflow solutions. Sergeants, chiefs, lieutenants, deputies, police officers, and others depend on our secure solutions to improve the accessibility and availability of criminal justice information. What's more, our CJIS-compatible document management platform can integrate with your record management system (RMS) and computer aided dispatch (CAD), which further helps agencies increase officer morale and efficiency.
Law Enforcement Transcript Types
We create a variety of law enforcement transcripts, including:
| | |
| --- | --- |
| Patrol Reports | Suspect Interrogations |
| Victim Interviews | Witness Statements |
| Fire Reports | Inmate Phone Calls |
| 911 Dispatch Communications | Wiretaps and Surveillance |
| Letters and Memos | Staff and Department Meetings |
Try Our Police Transcription Service for Free
We know law enforcement agencies nationwide are contending with budget cuts. And, in the face of these budgetary constraints, agencies are struggling to keep up with growing case volumes. Whether you're looking to outsource all your law enforcement transcription or simply looking for a transcription company to serve as a backup, Athreon is your ideal speech-to-text partner. Contact us for a zero-risk free trial.
Athreon Supports the Initiatives of Several Law Enforcement Associations and Organizations