Ophthalmology Speech-to-Text Transcription Solutions
Speech Recognition | EMR Transcription | Medical Scribing | Dictation
"Men trust their ears less than their eyes."
—Herodotus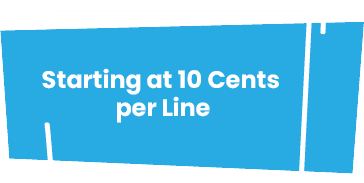 Ophthalmology Transcription, Speech Recognition, and Scribing Solutions
Did you know that many ophthalmologists spend nearly 4 hours a day documenting in their EHR? Sadly, it's true. Ophthalmologists spend roughly 2 hours charting in the clinic and finish the other 2 hours at home. Fortunately, Athreon's speech-to-text transcription solutions empower ophthalmologists to work smarter. Whether you use our ophthalmology speech recognition, dictation service, or medical scribing solution, we're ready to help you work more efficiently than ever.
Athreon's speech-to-text solutions help doctors specializing in eye care to create operative reports, clinic notes, correspondence, and more three times faster by using their voice. Our AI and human-powered charting solutions put physicians at the center of everything we do. We quickly deploy transcription services for ophthalmologists so they can focus on their patients while we focus on data capture and the EHR. For providers that prefer speech recognition, we invite you to look at our VoiceNote solution. Likewise, we offer AxiScribe as well, which is our medical scribe service.
Ophthalmology Transcripts – Streamlined and Web-Based
Athreon has been a trusted partner of ophthalmologists for over 30 years. We provide options to dictate by mobile device (iOS and Android), phone, or digital recorder. With Athreon, documenting patient care has never been easier. And our online document management portal makes it easy for surgeons and their admin staff to review, edit, e-sign, distribute, and archive files online. Athreon helps ophthalmology practices to be more efficient and profitable! We will even place completed documents directly in your EHR, whether you use CureMD, EMA, Medflow, EyeMD, Nextech or any other ophthalmology EMR.
Ophthalmology Dictation Service That Stops Physician Burnout
Athreon's transcription service for ophthalmologists helps minimize data-entry fatigue associated with documenting in EHR systems. Once a doctor dictates, within a matter of minutes or hours, the completed document is available in your EHR or Athreon's online portal for review. No matter which of our solutions you choose, we empower you to keep your focus on your patients while we untether you from your EHR and admin tasks.
Our healthcare documentation specialists routinely document common ophthalmic conditions like:
| | | | |
| --- | --- | --- | --- |
| Cataract | Excessive Tearing | Macular Degeneration | Strabismus |
| Diabetic Retinopathy | Eye Tumors | Proptosis | Uveitis |
| Dry Eye Syndrome | Glaucoma | Refractive Errors | |
Our ophthalmology transcription team is well versed in creating ophthalmology operative reports for a variety of surgical procedures, including:
| | |
| --- | --- |
| Cataract Surgery | Oculoplastic Surgery |
| Corneal Surgery | Orbital Surgery |
| Eyelid Surgery | Refractive Surgery |
| Glaucoma Surgery | Strabismus Surgery |
| Laser Eye Surgery | Vitreoretinal Surgery |
Ophthalmology Transcription Outsourcing That's HIPAA Compliant
Athreon's speech-to-text solutions are highly secure and HIPAA-compliant. Our mobile apps, web portal, and EHR integration options protect your data at rest and in motion. We even use the same security as the US government, including multifactor authentication. Moreover, every Athreon staff member participates in a thorough background check and ongoing cyber security training.
Ophthalmology Dictation Service That Automates Mundane Tasks
We've grown our ophthalmology dictation service by keeping the process user-friendly. Plus, we can capture your patient demographics, so you won't have to dictate them. Additionally, our apps for iOS and Android can visually walk you through your templates so you don't omit any required sections. Athreon can even automate document printing and faxing.
Ophthalmology Transcription Service– How Athreon's Quality Compares
Quality is the cornerstone of Athreon's ophthalmology transcription service. Our quality processes set the industry standard. We hire the most qualified ophthalmology medical transcriptionists and editors, and our QA team carefully reviews transcripts. Athreon's ophthalmology clients know they can depend on our transcripts to make sound decisions for their patients.