VoiceNote Front-End Speech Recognition
Doctors and other professionals use Athreon's speech recognition technology, VoiceNote, to lower their documentation costs and accelerate report creation.
Front-End Speech Recognition Overview
Athreon's automated front-end speech recognition technology, VoiceNote, is a robust productivity tool that improves workflow, lowers costs, and lessens reliance on support staff. Its superb accuracy helps doctors and other professionals shorten the document creation lifecycle. Our front-end speech recognition does not require users to invest in a microphone because it's compatible with your smartphone. Setup is simple, and users can begin using our speech recognition solution in a matter of minutes. What's more, our speech recognition technology learns and adapts to the way you speak, which enhances document output over time.
Front-End Speech Recognition Benefits with VoiceNote
Eliminate or reduce transcription costs
Real-time document creation
Create documents with less effort
Zero capital investment
Workflow management to stay organized
HIPAA Compliant
Windows and Mac compatible
Works with all EHRs
Front-End Speech Recognition – How Does VoiceNote Work?
Our front-end speech recognition solution works in Windows and Mac environments. Users only need an internet-enabled computer and a microphone or smartphone to create notes using their voice. To begin, simply download our free app on your mobile device and computer, add your templates, and start dictating. Unlike other speech recognition tools, there is no lengthy speech model training with VoiceNote. Users can accurately and efficiently create documents with their voice in a matter of minutes.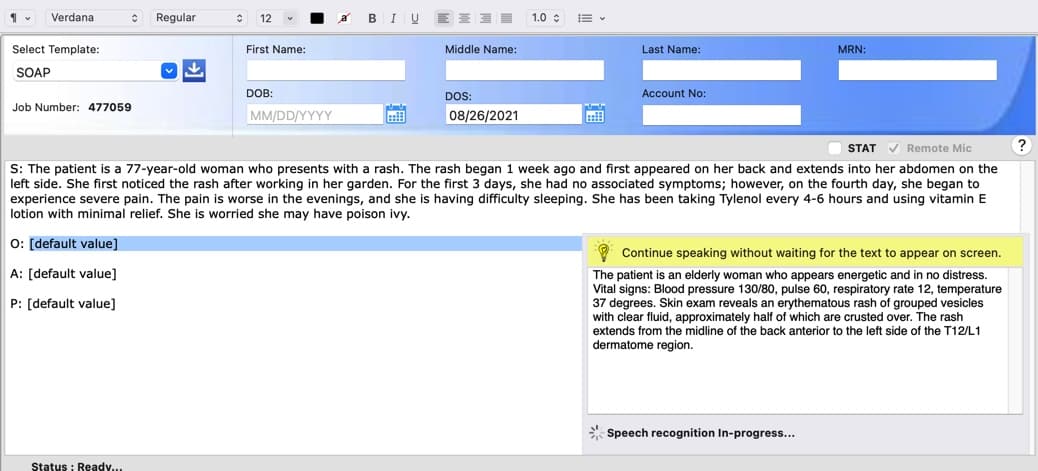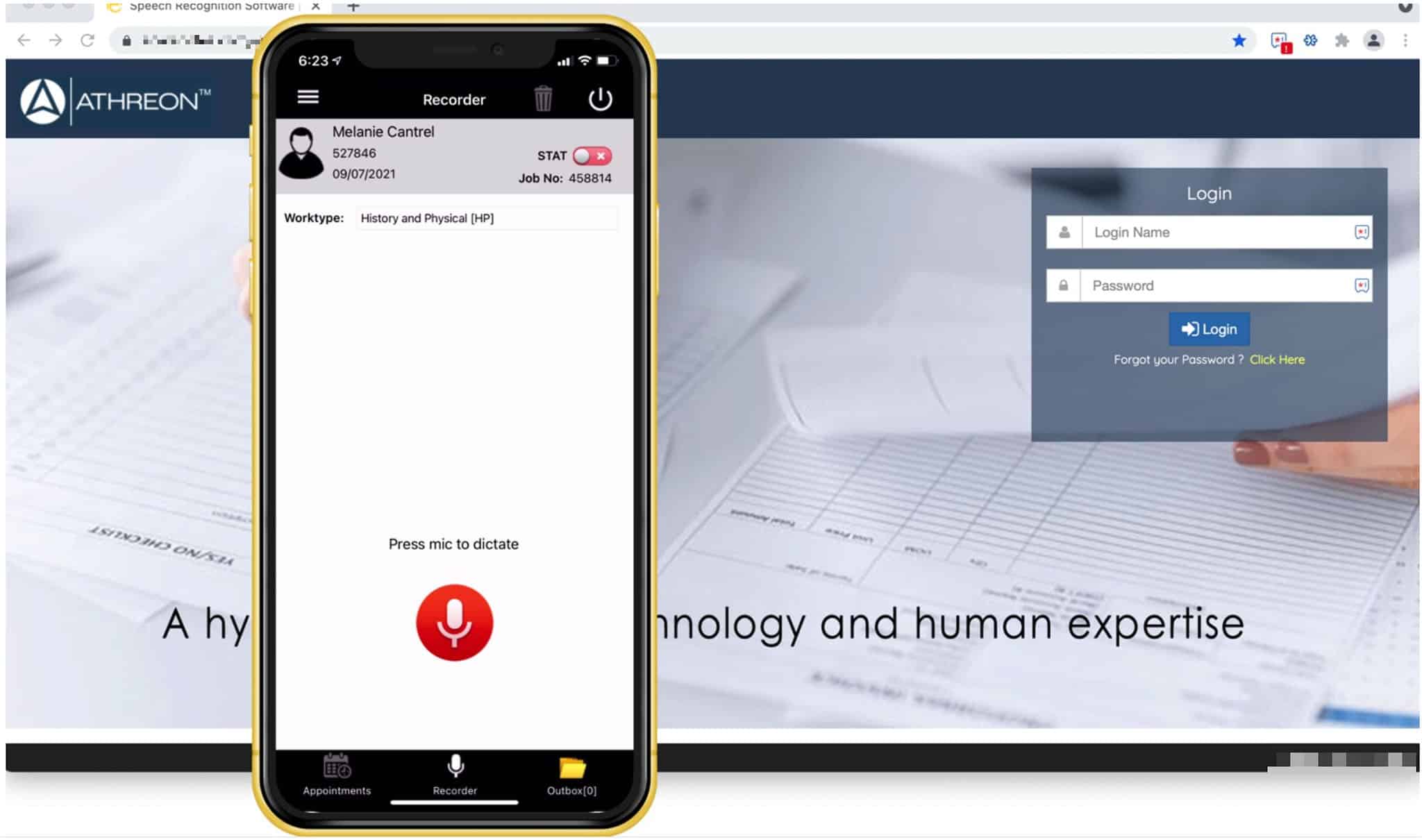 Front-End Speech Recognition Accuracy
Athreon has invested substantially to make the best speech recognition technology available to users. Our front-end speech recognition solution lets users easily format documents intuitively with their voice by using simple commands like:
Comma
Period
Next Line
Next Number
Next Paragraph
What's more, you can send your documents to a human editor for further review on-demand with VoiceNote. This is an excellent option for users who want another set of eyes to review their grammar, punctuation, and formatting.
Speech Recognition Web Portal and Templates
Our web portal is a convenient and intuitive option to help you create, edit, and organize your documents online. The web portal allows you to customize your templates and store any canned text that you routinely need to add to your documents. And, because our VoiceNote speech recognition technology generates a transcript in real-time, and the draft accuracy is so high, front-end speech recognition has never been easier.
Front-End Speech Recognition – VoiceNote is a Solution for EHR Downtime
When your EHR goes down, it's a crisis. Doctors who can't dictate have to resort to inconvenient alternatives like handwriting notes or trying to remember pertinent visit details until their EHR comes back online. Not only is this not an effective backup strategy, but it's not secure, and it can hinder patient care.
With VoiceNote, even when your EHR goes down, your productivity is never hindered. Despite your EHR being offline, you can continue to leverage Athreon's speech recognition via the Athreon web portal without interruption. And, when your EHR comes back online, if configured, your patient notes can automatically transfer from VoiceNote into your EHR with no extra effort from you!
Reduce EHR Fatigue With Our Front-End Speech Recognition
If too many hours of data entry prevent you from seeing more patients or charting work is following you home, we invite you to start using the power of your voice. Our VoiceNote speech recognition solution is compatible with all EHRs. Whether you use Epic, Gemms, Cerner, Allscripts, or anything else, our technology is compatible.
Athreon's speech technology leverages artificial intelligence and machine learning to improve document quality and reduce delivery times.
Eliminate Transcription Costs With Athreon's Front-End Speech Recognition
With our VoiceNote speech recognition technology, Athreon can reduce or eliminate your costs for converting speech to text. Athreon's front-end speech recognition is so user-friendly that clients often decide to deploy it to reduce or eliminate recurring transcription expenses. From a cost and efficiency standpoint, using Athreon's speech recognition makes smart business sense. You can dictate as much as you like and avoid recurring transcription costs for a single flat rate. From day one, Athreon speech recognition delivers an incredible ROI.